Happy July, reader, from KRW!
Kentuckiana Romance Writers has had a busy summer thus far with multiple book releases from our members, a field trip in June, and attendance at Imaginarium in July! Read more to see what's happening in Kentuckiana Romancelandia,
Summer Happenings at KRW
KRW has stayed busy this summer in June and July by exercising our creative muscles in different ways. First, we had our annual field trip on June 26 at Whet Your Palette! in Anchorage. We painted those fabulous flowers on canvas, seen in the photo on the top right.


Then in July, we set up our table at the Imaginarium Convention! It was another fun convention, with some of our members sitting on panels. We successfully reached out to some potential new members, and we're thrilled that so many people stopped by our table to learn about KRW. Also, thank you to those who donated to or sat at our table, pictured on the lower right.
August Meeting - In Person
KRW is returning strong in the second half of the year with in person meetings once more! We will have a writing sprint at the Starbucks inside the Hurstbourne Parkway Barnes & Noble on August 27th at 11am. No formal business meeting this time--we'll be writing for an hour and then playing a board game or two for those who'd like to catch up with other members. Bring your charged laptop or your favorite notebook!
September Meeting - Writers Retreat at the Farm
On September 17 (please note the

change

from our usual meeting date), we will be meeting at the scenic farm of member Charmaine Coombs. Come bask in the countryside while while writing amongst the rolling hills or inside Charmaine's beautiful home. Please bring a brown bag lunch. Her address will be provided in the Google Group to members only.
Congratulation to Marilyn Barr, WINNER of the 2022 Imadjinn award for Best Paranormal Romance at the Imaginarium Convention. Here she poses with her well-earned award for Dance to a Wylder Beat at the KRW table. If the Imadjinn isn't enough, this book has finale or won multiple prestigious awards!
Kristin Lee has completed The Sarasota Shark Series, with the 4th book, Swinging for Love, released on July 12. This steamy sports romance will steal your heart!
Upcoming Events Around the Area
(These events are not connected to KRW unless otherwise noted.)
August 27, 11am - KRW Meeting at Barnes & Noble
September 17, 11am-2pm - KRW Retreat at the Farm
Not Yet a KRW Member? Now Is the Best Time to Join!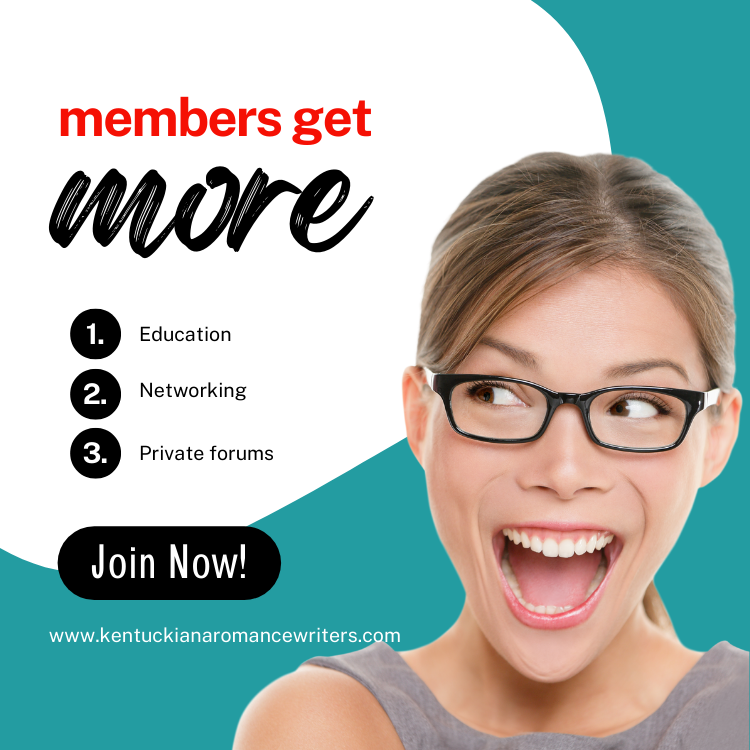 Reminders
• If you have something you'd like included in our "Member News," be it an upcoming or recently published book, an award, etc., send us an email!


• We're always on the lookout for speakers. Please send us your ideas to krw@kentuckianaromancewriters.com


• If you're a member and have not signed up for our Google Group forum, please do so ASAP. Email krw@kentuckianaromancewriters.com.
Questions?
If you ever have any questions, please don't hesitate to reach out to us at krw@kentuckianaromancewriters.com.